Looking for Healthy Eating slogans to motivate yourself and your loved ones to always eat healthy foods and stay away from junk food?
Then this post is for you.
We are sharing a list of healthy eating slogans that you can remember and remind yourself often to always eat healthy foods.
Healthy Eating Slogans
Enjoy the taste of Eating right
A healthy body eats healthy food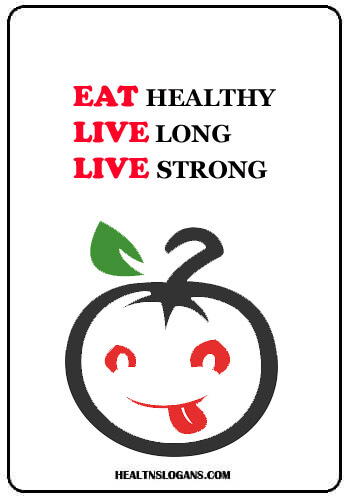 Eat healthy, live long, live strong!
Bigger Snacks, Bigger Slacks.
Milk: it does a body good
Take charge, don't be large.
Healthy food in school, That's really cool!
You have to eat right for the fat to take flight.
Eat a healthy meal to help your body heal
You can't enjoy wealth if you're not in good health
Easy to gain, hard to lose.
Read Also: A Complete List of Health Slogans
Cake and pie may taste like heaven, but you'll regret them when you turn 37!
Eat the best, leave the rest.
Healthy eating keeps the heart beating!
Melt the fat away
Diet cures more than doctors.
Be Green. Eat veggies.
Ignore your health, it will go away.
Nothing tastes as good as thin feels.
Think healthy first!
A moment on the lips, a lifetime on the hips.
Eat smart for a healthy heart!
An apple a day keeps the doctor away.
Read Also: Nutrition Slogans
Be smart, eat smart.
Eat Green. Be Healthy.
Don't wait to lose weight.
Eat right! Be tight!
Give a hoot, eat more fruit!
Eat More Greens
Eat Good or Die Bad
Salad and beets are some healthy treats
Take care of your body and it will take care of you.
Eat right, be bright.
Your stomach shouldn't be a waist basket.
Health is not appreciated until sickness comes.
Every girl and dude should be eating healthy food
Fruit, fruit and more fruit
Read Also: Vegetarian Slogans
Always eat right
You are what you eat from your head down to your feet.
Watch what you eat today, so tomorrow you can keep diseases away
Act healthy. Be healthy. Eat healthy.
Eat to live not live to eat.
Eat wise, drop a size.
Give up the fat, watch your belly go flat.
He who Indulges, Buldges.
Full of energy you will feel, after eating a healthy meal
Take care of your body, it's the only place you have to live.
You'll huff and puff if you eat a lot of stuff.
Diet cures more than doctors
Think of what you put in your mouth, that's what healthy eating is all about